Helicopter Aerial Views in Mauritius
Undeniably the thrill of flying in a helicopter is an unrivalled experience; the feeling of lifting off vertically is an exciting experience in itself. At point one it was mainly politicians and celebrities who had the privilege of flying in a helicopter, but today due to evolving technology and competition, helicopter tours are easily accessible.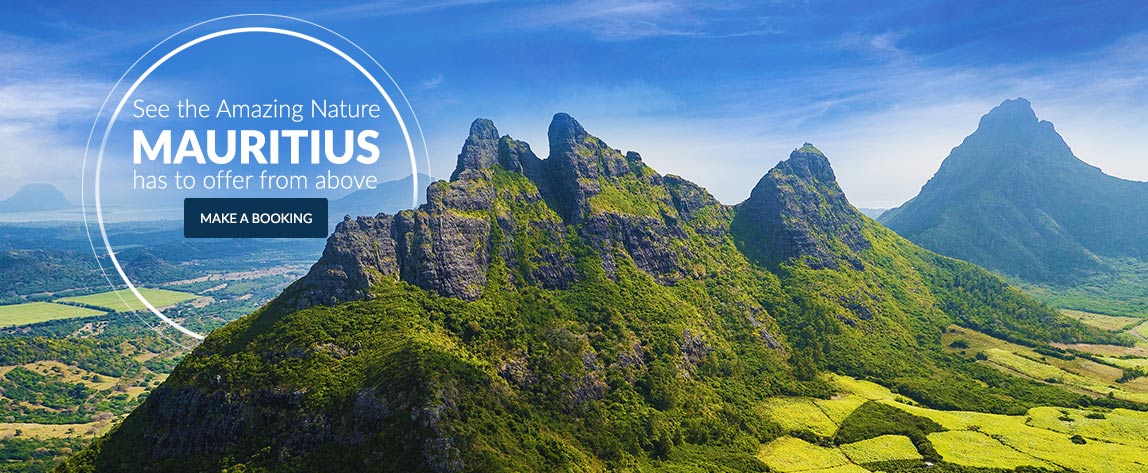 Advantages of Helicopter aerial views:
The bird eye's view is a thrilling and once in a lifetime experience whereby you have the possibility to witness the blissful creation of nature along with cities, towns and villages.
Helicopter aerial views and tours are a fast way to go more places and discover the key sites and landscapes of the island.
This is the best way to mark special moments with your dear ones-worth celebrating in a unique way.
For professional or amateur photographers or videographers the helicopter aerial view serves as the best way to take pictures or shoot a video from a bird's eye view.
Enjoying a helicopter aerial view is no more far-fetched- it has become more accessible.
List Of Best Sites In Mauritius To See From High Above
Make your stay in Mauritius a memorable one by discovering the scenic and stunning aerial views from a helicopter tour.
Mauritius being a volcanic island has given birth to many gorgeous and unique geological formations that will keep you mesmerized. Besides, the turquoise blue ocean, white sandy beaches, and virgin surrounding islets you will get the chance to see Mauritius beyond its cliché.
Here is a list of the best sites in Mauritius to see from high above:
Underwater Waterfall at Le Morne
The Chamarel Coloured Earth and Waterfalls
UNESCO World Heritage Site-Le Morne Brabant
Notre Dame Auxiliatrice chapel - Cap Malheureux
Black River Gorges National Park
Piton de la Petite Rivière Noire (Black River Peak)
Grand Bassin Lake
Trou aux Cerfs Crater
Ile aux Cerfs
Grand River South East
Pieter Both
Le Pouce Mountain
Coin de Mire